Trasnformations of clay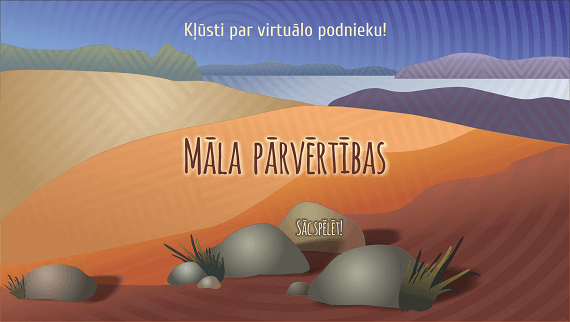 A Creatively educational game "Clay transformations" will make it possible to become virtual potters – lords of clay, experiencing clay transformation starting from clay preparation process to the artwork of fired clay. Every visitor may choose whether just to make potter's ware, or also at each earthenware making stage to find out a variety of interesting facts about the pottery craft and its specifics.
The aim of the game – becoming virtual potters and making own earthenware, to learn about potter's craft in Latgale and its basic principles, to explore clay transformation starting from clay acquisition in the clay hill  and to burned clay pot.
The implicit aim of the game – to arise interest in the objects of LCHM ceramic collection, exhibition of Latgale ceramics, pottery of Latgale as one of the canons of Latvian culture, preservation of pottery traditions and its development today.
Target audience of the game – pupils, students, pedagogues , especially those who study and teach art, design, culture history, folk applied art; all those who are interested in ceramics, culture and history of Latgale, tourists who might be interested in Latgale region, Latgalian values and traditions because of its ceramics.
The description of the game
The game begins with the very first important work towards the transformation of clay – clay excavation, followed by kneading the clay, turning, decorating, glazing, kiln firing, taking the earthenware out of the kiln and telling others about the accomplished task.
Everyone may choose his own way of making the earthenware and this process can be: 1)as a creative process in which a player (a virtual potter), following the step-by-step guide for each subsequent production phase, gets the pottery he has made himself; 2) making pottery can be creatively explorative process if the person reads the information behind the icon I (information) while he is making earthenware, because he can find out a variety of interesting facts about clay acquisition, turning , drying, glazing, kiln firing, etc.
Every readymade product participates in the voting, where it can get into TOP 10 of the most renowned earthenware of the month. TOP 10 crockery will be stored and included into the virtual gallery "Clay transformations". A photo image of the produced clay vessel can be sent to friends by entering their e-mail address or it may be published on the social networks to tell others about the accomplished work.
Becoming a virtual potter, the quantity of the vessels to be made is not limited. The next earthen vessel can be made only when the previous product is completely made or returning to the beginning of the game while the previous vessel is in its making phase.